Get A Good Night's Sleep With The Right Bed
As a bed specialist shop, we pride ourselves in being up to date with the latest technology on the bedding market, to ensure you get the best value for money, and most of all, the best possible nights sleep.
With over 50 years of knowledge in the bedding industry, our staff are more than capable and willing to find the right bed for you. And with a selection of some of the best brand names on the market such as Dunlopillo, Hypnos, Rest Assured, Healthbeds and many more, the choice couldn't be easier!!
Here are a selection of our models available, with a much wider choice in store!!

We are now introducing the Hypnos Brand at BDL Furnishers Essex. Hypnos is a British bed making company that has been practising and perfecting the art of bed production for over 100 years. A family-run business, even to this day Hypnos use traditional methods that have been passed down from generation to generation, allowing them to create stunning mattresses and beds time and time again. All of these collections below can be combined with an extensive range of storage divan solutions such as standard and continental style drawers or alternatively maximise your storage options with the Hideaway or a Superstorage Ottamon.
For further information we look forward to welcoming you to our store in Southend-on-Sea, Essex or alternatively call us for expert advice on 01702 463401.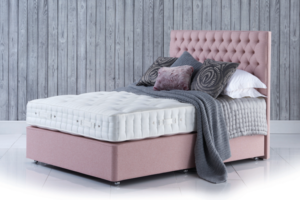 This supportive mattress features a ReActive™ 9-turn pocket spring system. Each spring independently senses your shape and weight distribution to provide total spinal and body support
Generously upholstered with naturally soft and breathable layers of cashmere, wool, cotton, and Solotex™, which help regulate body temperature
Covered with a cocona-infused Belgian damask to provide a soft, fresh and hygienic sleeping surface
Choose a Firm or Extra Firm comfort level.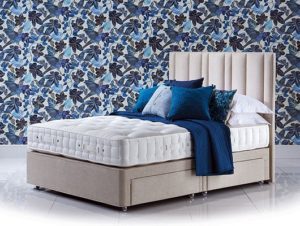 Tailored with 2 rows of genuine hand side-stitching for additional edge-to-edge support, and hand tufted for long lasting comfort and support
Covered with a cocona-infused Belgian damask to provide a soft, fresh and hygienic sleeping surface
Choose an upholstered headboard to crown the bed
This supportive mattress features a ReActive™7-turn pocket spring system. Each spring independently senses your shape and weight distribution to provide total spinal and body support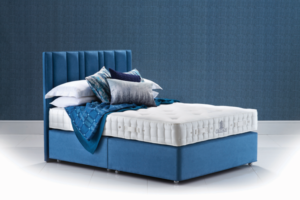 This luxury no turn mattress features a ReActiveTM 6 pocket spring system. Every ReActiveTM spring has 6 active turns —each spring independently senses your shape and weight distribution to provide total spinal and body support
Finishing divan touches – hidden storage drawers or Super-Storage divans or Hideaway divans for maximum storage, all available with a choice of exquisite feet or a divan skirt
Upholstered with luxurious and natural layers of wool, SolotexTM luxury cushioning and Talalay latex for exceptional comfort, then covered with the finest Belgian damask to provide a soft and cool surface
Tailored with 2 rows of genuine hand side-stitching for edge-to-edge support, and hand tufted for longevity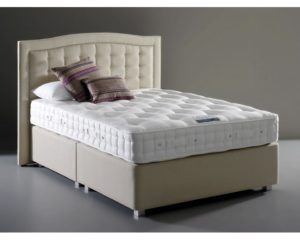 This luxury mattress features a 3-zone ReActive™ pocket spring system. Each ReActive™ spring has 8 active turns – independently and actively sensing your shape and weight distribution, providing comfort and support exactly where you and your partner need
Finishing divan touches – hidden storage drawers or Super-Storage divans or Hideaway divans for maximum storage, all available with a choice of exquisite feet or a divan skirt
Upholstered with layers of 800gsm Wool & Silk blend plus 4,000gsm fleece Wool to help regulate body temperature, and covered with the finest Belgian Damask to provide an exquisite, soft and silky sleep surface
A personal design statement – headboards and divans can be upholstered in a range of fabrics to match any interior, creating a stunning bedroom centrepiece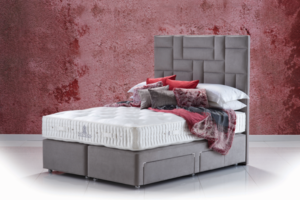 This luxury seasonal turn mattress features a 3-zone UltraSens™ pocket spring system. Each UltraSens™ spring has 14 active turns – independently and actively sensing your shape and weight distribution, providing comfort and support exactly where you need
A personal design statement – headboards and divans can be upholstered in a range of fabrics to match any interior, creating a stunning bedroom centrepiece
Upholstered with layers of 2,800gsm Wool, 500gsm Wool & Silk blend and 2,000gsm Alpaca for the ultimate in soft, breathable comfort, and covered with the finest Belgian Damask to provide an exquisite, soft and silky sleep surface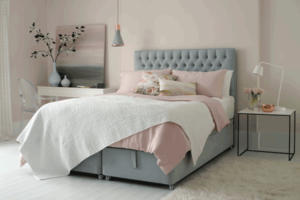 This luxury seasonal turn mattress features a 3-zone UltraSens™ pocket spring system. Each UltraSens™ spring has 14 active turns – independently and actively sensing your shape and weight distribution, providing comfort and support exactly where you need
A personal design statement – headboards and divans can be upholstered in a range of fabrics to match any interior, creating a stunning bedroom centrepiece
Upholstered with layers of 2,800gsm Wool, 500gsm Wool & Silk blend and 2,000gsm Alpaca for the ultimate in soft, breathable comfort, and covered with the finest Belgian Damask to provide an exquisite, soft and silky sleep surface